We explore alternative manufacturing processes for active principles and intermediates to reduce both your costs and environmental impact
Introducing electrosynthesis
The manufacture of certain chemicals still requires the use of corrosive and/or toxic assets, non-renewable raw materials, large quantities of organic solvents, high temperatures and/or pressures.
The impact on the environment is significant: the pharmaceutical industry, although weighing 28 fewer in the economy than the automotive industry, is 13 more polluting(source).
Electrosynthesis approach
The electrochemical approach involves using electrical energy to initiate chemical reactions. In this way, it is possible to improve or remove stages of chemical reactions making your overall production more profitable and less impactful on the environment. The difficulty lies in characterizing the key parameters for optimal performance. Our team has been working on this technology for several years and has obtained the necessary expertise to find the right parameters.
Comparison of estimated environmental impact for antibiotic production
Reducing CO2 emissions compared to conventional production
Reducing tonnes of waste compared to conventional production
Many chemicals can be produced by electrosynthesis. In order to enable you to determine its economic potential, we offer you different services:

1. Feasibility study
Lasting 3 to 7 days, it can be used to estimate the potential for improvement of the electrochemical pathway.

2. Pre-pilot study
Lasting about two weeks to two months, it can determine at plus or minus 20% on average the performance of the electrochemical pathway.

3. Production
Once we have done the previous studies, we have all the equipment necessary to make several kilograms of your product.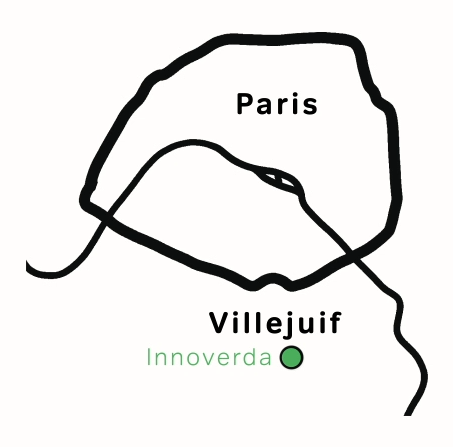 Address
Innoverda
Villejuif Bio Park
1 Mail from Professor Georges Mathé
94800 VILLEJUIF – France
Mail
irene.erdelmeier@innoverda.com